Updated July 05, 2018 20:18 EDT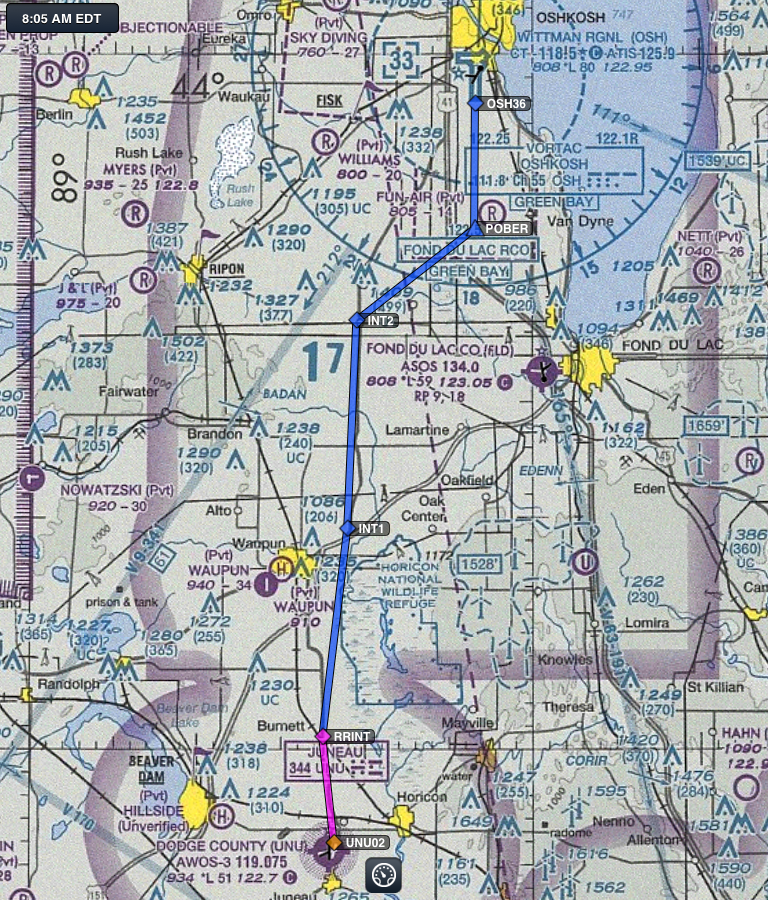 As in most previous years, we expect to depart runway 2 from Dodge County Airport (KUNU) and land on runways 36L and 36R at Oshkosh, but we need to be prepared to take off from the runway favored by the surface winds at launch time from Juneau and land on any runway in Oshkosh. The departure and approach procedures, including contingency plans for a potential landing runway change after takeoff from Juneau, will be briefed in detail during the preflight brief on Saturday, July 20rd starting at 12:00 Noon CDT.
The mass arrival flight waypoints are contained in files of different formats, including doc, pdf and csv. You may choose to download the most convenient file for you. The doc files are Microsoft® Word documents, version 97-2003. The pdf files can be read and displayed by most browsers, operating systems and readers such as Adobe® and Foxit®. The files are formatted in three columns depicting the name, latitude and longitude coordinates of each waypoint, and in rows listed in the order that the waypoints must be flown. The latitude and longitude coordinates are in the degrees minutes.decimal minutes format (DD MM.mm), i.e. 44° 24.10'. Use these files as reference documents while manually programming all the waypoints into your GPS units as user waypoints.
The latitude and longitude coordinates in the CSV or comma-separated value file are in the degrees.decimal degrees format (DD.ddddd), i.e. 44.54321°. You may use this file to batch import the waypoints to ForeFlight® in your iPad. You will need the Apple iTunes® application to complete the upload. The procedure consists of copying the csv file to the ForeFlight® File Sharing section in the Apps tab of iTunes&reg. iTunes® will then synchronize with ForeFlight® and send the file to your iPad. Detailed step by step instructions of this procedure can be found in the FAQ section of the ForeFlight website by following this link www.foreflight.com/support/user-waypoints. The imported waypoints will appear in the user waypoints section of ForeFlight®. To plot the route you would select the sequence of waypoints as you would any route in ForeFlight®. We have not tested this procedure in other tablets or portable devices running other operating systems and software applications. As previously mentioned, embarking in extensive testing of other available platforms is beyond our capabilities.
* This file contains all the waypoints that need to be imported into ForeFlight® or the moving map application of your choice, including the UNU rwy 20 takeoff, the OSH rwy 18 landing and the flight route waypoints.